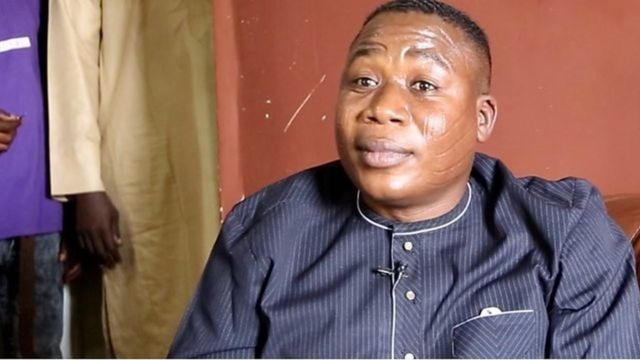 A counsel to the Yoruba Nation agitator, Sunday Igboho, Olasupo Ojo, on Tuesday, disclosed that his client has no plan to change his lawyers in Benin.
Recall that the activist in leaked audio had condemned his Benin-based lawyers for failing to secure his release from detention.
Igboho had blasted the Benin Republic-based lawyers led by Ibrahim Salami for collecting about ₦5m each and abandoning him in prison.
The Yoruba Nation agitator further stated that he is not afraid of being extradited to Nigeria.
Ojo in a discussion with Punch said, "He (Igboho) is not changing any of the lawyers in the Benin Republic. We know the lawyers that are working, we know those are not working and we have adjusted according. For the sake of goodwill and everybody concerned, we are not removing any lawyer because each of those lawyers has their good sides and added advantages and we also need their goodwill. It is a foreign country."
"So, we have decided to continue working with all of them. We can manage them. They are all contributing. He may not know what the lawyers are contributing outside; he is only concerned about who he is seeing. All the lawyers cannot be coming to the prison all the time."
A counsel to Igboho in Nigeria, Pelumi Olajengbesi, while speaking on the leaked audio, described the development as a regretted development.
He further stated that the head of the entire legal team, Yomi Aliyu (SAN), had once fired all the Benin-based lawyers for related matters Igboho accused them of in the leaked audio.
Olajengbesi said, "There is no confusion in the Igboho legal team. Of course, it is a big legal team but it is well-structured. The Igboho case is not a small matter because we are dealing with two nations and the Federal Government of Nigeria is determined by all means to take down Igboho."
"Chief Sunday Igboho is not satisfied with how the matter is handled in the Benin Republic. Of course, he is aware of the progress made in Abuja, he is aware of the progress made in Ibadan, Abuja and Lagos.
"The head of the entire legal team of Chief Sunday Igboho is Chief Yomi Aliyu and there was a time he sanctioned the entire team of lawyers in the Benin Republic. He sacked all of them. It took the understanding of senior lawyers involved in this matter who have always been giving guidance and advice like Chief Femi Falana (SAN), Ojo Olasupo and others to salvage the Benin-based lawyers.
"The legal team in Nigeria is intact, there is an understanding and the matter is going on well."
This article was originally published on Naija News